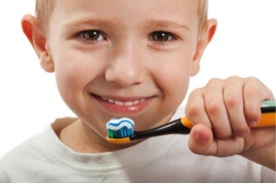 Looking for the perfect toothbrush for your child's oral health needs? While it may be easy to just grab the flashiest brush with the latest action hero or Disney princess on it, you want to make sure it's functional too., Parents often ask if they should get their child a manual or electric toothbrush. According to the American Dental Association, either type can effectively clean teeth. In fact, studies show there is no significant difference in how well the brushes clean. What's most important is that you make sure the toothbrush has the association's seal of approval so you can feel confident that all parts of the toothbrush are safe for use, and the material is durable
Here are some other tips:
Opt for a soft bristle toothbrush; bristles that are too hard can actually damage gums, root surface, and protective tooth enamel, according to Web MD.
Make sure it's easy for your child to hold. A toothbrush with grips will help but a toothbrush small enough for your child's hand is most important.
Consider a brush that plays a song or has a timer to keep your child focused on their brushing for a full two minutes.
Involve your child in the selection process. Once you narrow down a few of the best toothbrushes, let your child choose if they'd like a manual or electric toothbrush. From there, they can choose colors and designs to fit their taste. Allowing them to participate in the selection will help increase their interest and commitment to taking care of their teeth.
Finding the best toothbrush is important, but more importantly, the process of picking a toothbrush should set the stage for teaching your child about caring for their teeth. Just make sure the toothbrush is safe, effective and appealing to your child. Remember, while they are young, brush and care for their gums and teeth until they are ready to take on the task themselves.