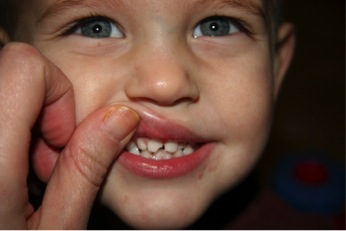 Unfortunately, chipping a tooth can be a common childhood experience. It's especially likely during the time toddlers are learning to walk or older kids are actively playing sports. If your child chips a tooth, the first thing to remember is not to panic. Unless your child is in pain, a chipped tooth is usually not serious. That being said, when your child does have a chipped tooth, you should always call your dental office as soon as possible to schedule an emergency evaluation in case there is damage you can't see.
In addition to calling the dentist, you should rinse your child's mouth with cold water and apply a cold compress to reduce any potential swelling. Also, make sure to collect any teeth fragments, if possible and bring them to your pediatric dentist. If you cannot find the fragment from the tooth and your child is having difficulty breathing, immediately take them to an emergency room to make sure they did not inhale a piece of the tooth.
For a day or two after chipping a tooth, feed your child soft foods that will be gentle on their teeth. If they continue to feel pain, you can give them the advised amount of children's ibuprofen. If you are not sure, ask your dentist or doctor what the correct dosage for your child is before administering any medication.
If your child loses a baby tooth from the accident, there may be some damage that will become visible later, such as discoloration. You also want to watch carefully to make sure their gums do not become infected. If your child's gums are swollen or tender or your child exhibits a fever, call the pediatrician as soon as possible.
While it is not always possible to avoid chipping teeth, we recommend watching your child carefully while they are learning to walk and keeping them in soft, carpeted areas until they become steadier on their feet. When children begin playing sports, make sure they use a mouth guard for protection and teach them how to avoid hazards that may lead to falls.
While a baby chipped tooth is not usually a serious issue, it can be aesthetically unappealing. If a parent or child is unhappy waiting for the chipped tooth to fall out naturally, talk to your dentist about options for having the baby tooth fixed. The first priority when a baby tooth becomes damaged is preserving the permanent teeth. When there is damage to permanent teeth, it often requires some kind of treatment, such as bonding, filling or capping.
If you ever have any questions or concerns, call our office. We are here to help.