Emergency Pediatric Dental Care – Scottsdale, AZ
We're all about keeping our patients' smiles healthy and pain-free, which is why we'll make every effort to treat your child as quickly as possible if they're hurting or they've been in an accident. A Scottsdale kid's dentist is on call 24 hours a day at Children's Dental Specialty. Please call our office and follow the prompts for Emergencies to be connected with a member of our team who can help you get connected with your child's CDS dentist.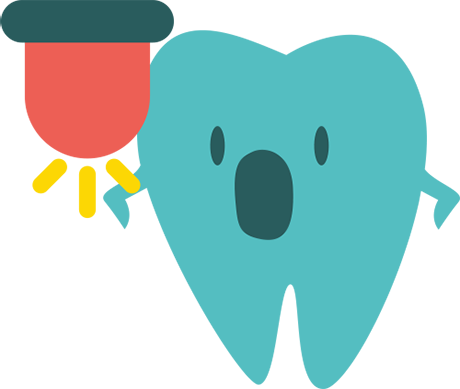 If your little one has a sore tooth, make sure they avoid really hot or cold food. Thoroughly clean around the sore tooth and have them rinse their mouth with warm saltwater to remove any trapped food. We know a lot of online sources say to put aspirin on the tooth or gums, but believe us, don't do that! Instead, have your child take an over-the-counter ibuprofen or acetaminophen, if necessary. For facial swelling, apply a cold compress to the face. Be sure to contact our office for an appointment with an emergency pediatric dentist as soon as possible.
If your child chips their tooth, have them rinse their mouth with cold water and apply a cold compress to reduce any swelling. Try to find any broken fragments and bring them to our office for their appointment. Call us as soon as possible and connect with an emergency pediatric dentist for a visit.
If you think your child has a broken jaw, use a cold compress to reduce swelling. Call our office or head to the hospital immediately. Since a broken jaw is often the result of getting hit in the head, it's important to seek immediate medical attention to also rule out a head injury.
Canker sores and cold sores can be really annoying and painful, especially for little kids. Over-the-counter medications can provide some pain relief, while certain prescription medications can help shorten the duration of the lesions. If the pain persists and it's affecting your child's daily activities, give our office a call.
KNOCKED OUT OR FRACTURED TOOTH
Kids most commonly experience severe dental trauma when they're first learning to walk or in those early teen years when they're more active with friends riding bikes and playing sports. A custom mouthguard is the most effective way to prevent dental injuries.
If your child has an injury and loses or breaks their tooth, it's super important to seek immediate dental care because sometimes we can actually reimplant the tooth and save it! First, find the tooth or tooth fragment and hold it by the crown (the top that you can see above the gum line) and not the root. While holding the crown securely, carefully rinse the tooth with clean water being careful not to scrub the root. Place the tooth in a cup of cold milk or Hank's Balanced Salt Solution (Save-a-Tooth) and go directly to your pediatric dentist. If it's after-hours, call our emergency line right away.
If a dental injury causes bleeding, apply pressure by having your child bite down on a piece of clean gauze or a washcloth. Call us so we can evaluate your child's mouth. If you're unable to control the bleeding, be sure to contact us right away or seek emergency medical care.
Your Child's Smile Deserves the Best!
Schedule a visit with our expert Scottsdale emergency pediatric dentist to put your child on the path to outstanding oral health.
Request an Appointment