Nitrous Oxide Sedation – Scottsdale, AZ
Say Goodbye to Tears and Fears!
At Children's Dental Specialty, our highly trained and experienced staff goes above and beyond to make our practice a friendly place to be. Nonetheless, we understand that's not always enough for some children. Maybe they had a previous bad experience with a different dentist, or maybe they're experiencing dental pain. Whatever the case, if your child is afraid of going to the dentist's, we don't take it personally. In fact, we're here to help! With calming nitrous oxide sedation for children in Scottsdale, we can help your little one say goodbye to tears and fears while they get the care they need! Give us a call to learn more today.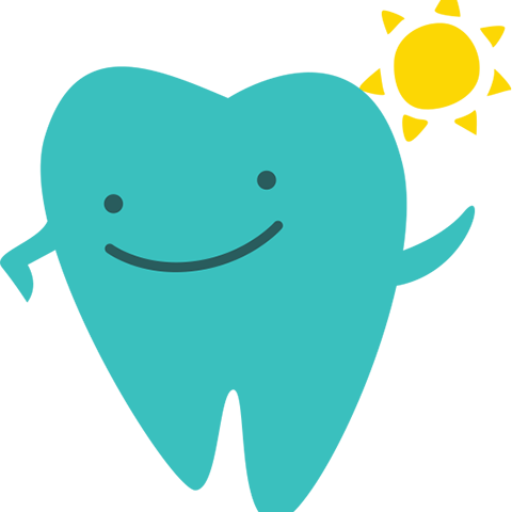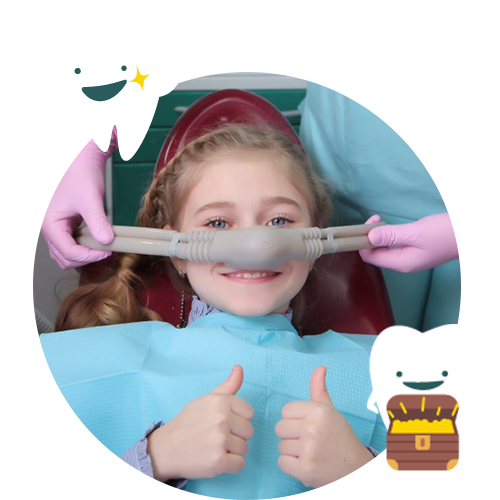 Keeping an Eye on Your Child's Smile
Depending on your child's needs, we may kick-off their exam by taking low-dose digital x-rays and intra-oral pictures. Our Scottsdale and Phoenix kids' dental practice uses state-of-the-art imaging equipment, which gives us the highest quality images and emits the lowest amount of radiation possible. When we're finished, we'll take your child back to a comfy, kid-themed exam room. Infants and toddlers will sit on mom or dad's lap during the visit. As for older kids, we have an open door policy, so you're more than welcome to come back with your child if you'd like.
Dr. V will count your child's teeth and look at their teeth and gums. If they have sealants or restorations, she'll make sure they're in tip-top shape too. She'll talk with you and your child about their brushing and flossing routine, oral habits like thumb sucking or pacifier use, and answer any questions. If she does spot issues, she'll walk you through her findings. When we're done, we usually finish up with a cleaning and, if indicated, a fluoride or xylitol treatment or dental sealants. Then, your child will head off to explore our stash of prizes.
Could Nitrous Oxide Sedation Be Right for Your Child?
If you are unfamiliar with nitrous oxide sedation, you may be more familiar with its nickname "laughing gas". This reliable form of sedation dentistry has been used for decades to help patients of all ages feel more comfortable in the dental examination chair. In fact, the American Academy of Pediatric Dentistry even officially recognizes it as a safe and effective treatment for children.
So is it right for your little one? Quite possibly! Most children are great candidates for nitrous oxide sedation. Nonetheless, the only way to know for sure is to visit us for a consultation. We'll take the time to get to know you and your child while reviewing their medical history to make sure nitrous oxide is a good choice for them. We've found that nitrous oxide sedation helps children who:
Feel scared or anxious when visiting the dentist
Had a previous bad experience with a dentist
Have trouble sitting still for long periods of time
Have an overactive gag reflex or very sensitive teeth
Don't usually respond well to numbing medication alone, or who are very afraid that their treatment will hurt.
Will be undergoing a long or complicated procedure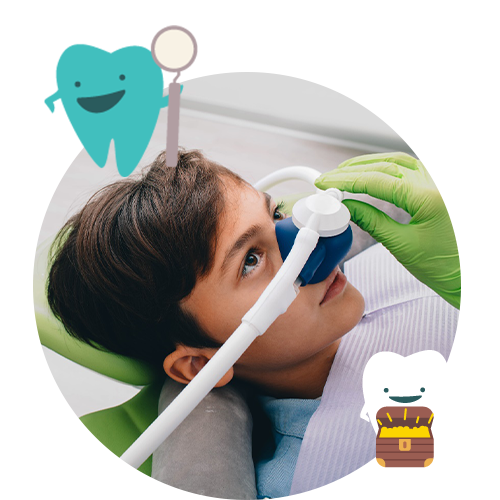 How Does Nitrous Oxide Sedation for Children Work?
If nitrous oxide is a good option for your child, we'll begin by getting them settled in the dental chair. Then, a small mask will be placed over their nose and mouth. They'll breathe in a colorless, odorless gas and within just a few moments, they'll begin to feel light, relaxed, and maybe even a little giggly!
Nitrous oxide sedation won't make your child fall asleep. They'll be conscious enough to answer simple questions and respond to basic instructions. However, they'll be completely oblivious to the sights, sounds, and sensations that would typically cause them distress. We'll monitor their breathing and heart rate closely, and we'll be able to adjust their level of sedation at any time if necessary.
Aftercare for Nitrous Oxide Sedation
While nitrous oxide sedation offers many benefits, one of the most popular is how little aftercare it requires! Once your child's treatment is complete, we'll remove the mask. They'll return to their normal state of alertness within just a few minutes of breathing regular air! You'll both be able to go about the rest of your day without disruption.
Your Child's Smile Deserves the Best!
Schedule a visit with an expert Phoenix or Scottsdale pediatric dentist to put your child on the path to outstanding oral health.
Book an Appointment