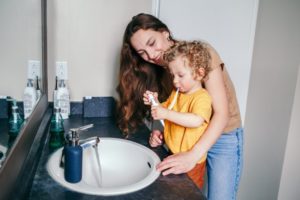 Every parent knows what it's like to try to make a child brush their teeth who doesn't want to. There are a lot of items on the market designed to help in this regard, such as fancy brushes, apps, toys, etc. But research has shown that the best tool actually won't cost you a thing – encouragement! Keep reading to learn from a pediatric dentist in Scottsdale why you should praise your child for handling brushing teeth on their own and how you should go about it.
Research Shows That Praise Is Impactful
Researchers at the University of Pennsylvania, Yale University, and the Santa Fe Institute evaluated how three-year-old kids brushed their teeth and the connection between their efforts and how often they received praise from their parents. Although the study only consisted of 81 children, researchers discovered that most participants brushed longer when they received more praise and less instruction.
Parents submitted videos of nightly toothbrushing over 16 days. They were instructed to start recording the video before the toothbrush was in their child's mouth and to stop recording when they took the toothbrush back from their child. Parents were asked to let their child brush their teeth by themselves for as long as they could before the parent stepped in to help.
The videos also included parents talking to their children throughout brushing their teeth and "praise" used by parents throughout the nightly ritual. The study was published in the journal Child Development.
How Do You Build Your Child's Motivation for Brushing?
To get started, you need to hand the toothbrush to your child, so they realize it's up to them. It is the only way they'll learn to effectively brush their teeth. This may seem like more work initially but allowing them to steer the process is great for fostering improvement in their brushing skills, leading them to adopt better oral hygiene habits with age. Most children should be able to brush their teeth starting between the ages of six and nine.
Naturally, you'll need to assist to ensure they clean those hard-to-reach areas but while they're holding the brush, be sure to offer appropriate praise. You can do this by:
Focus more on their effort than the actual result. Yes, you want to make sure their teeth are clean but praising their attempt will encourage them to keep going.
Consider the words you choose, using "Good job," "You're doing great," or "Very good."
Make eye contact with your child so they can see the expression on your face. Words mean a lot but your eyes can really help you get your point across.
Even once your child is old enough to brush their teeth unsupervised, don't underestimate the importance of continuing to praise them and letting them know you are proud they are taking charge of their oral health.
Hopefully, you should notice that your kids become more engaged with their oral hygiene as you offer more praise. By keeping these tips from a pediatric dentist in Scottsdale in mind, you can do a great job of helping your child build great brushing habits that will last a lifetime!
About the Author
Dr. Veronica Martinez earned her dental doctorate from Marquette University. She is a member of the American Academy of Pediatric Dentistry and maintains an Arizona state sedation license. A board-certified pediatric dentist, she will be happy to help encourage your child about brushing their teeth and offer some simple at-home tips when they visit for their next checkup and cleaning. Schedule their appointment on her website or call (480) 282-6746.