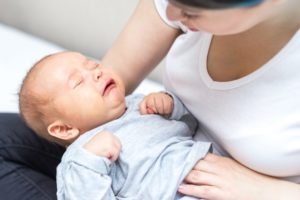 While your baby getting their first teeth might be one of the more joyful moments of parenthood, the process can be very uncomfortable for the infant. Teething usually begins between the ages of four and seven months old, and the teeth erupting from the gums is often a painful experience. While a teething ring can help soothe your little one, it must be used properly to keep your child's emerging smile healthy. Read on to find out how to use a teething ring without disrupting your child's dental health.
What Is a Teething Ring?
The teething process can cause swelling and tenderness in the gums, causing your child to drool, refuse food, become irritable, have trouble sleeping, and bite into hard objects. A teething ring is a teething toy designed to be easy for a baby to pick up and gnaw upon. The pressure can help soothe their sore gums.
How Can I Keep a Teething Ring Safe for My Baby to Use?
Teething rings are safe, but there are some things that can go wrong if they are not used properly. Here are some tips to protect your child's teeth:
Don't freeze a teething ring: While keeping the chewing toy cool can help it soothe your child's discomfort, keeping it frozen can bruise their sensitive gums. Store the teething ring in the refrigerator rather than the freezer.
Supervise your child: Keep an eye on the baby while they use their teething ring. Do not tie the ring around the child's neck to keep it within reach, as this can risk choking or strangulation.
Choose the right model: While teething rings come in many materials like plastic and silicone, models filled with liquid can break over the course of vigorous chewing. This can release the foreign fluid into the baby's mouth. Plastic rings that can be easily broken or have small parts like rattles represent a choking hazard for your infant.
Are There Any Other Ways That Can Help Ease the Teething Process?
There are more ways to help soothe a teething baby than teething rings. You might also try gently rubbing your child's gums with a freshly cleaned cool washcloth or finger. If the baby is eating solids, cooler, softer foods like applesauce can be easier on the developing gums. If you want to use a bottle, remember to only fill it with water.
While teething may not be the most comfortable experience for your child, teething toys can help relieve their distress. If you have any further concerns, consult with your child's dentist or pediatrician. By taking care of your child's developing mouth, you can help set them up for a lifetime with a beautiful smile.
About the Author
Dr. Veronica Martinez, also known as "Dr. V," earned her dental doctorate at the Marquette University School of Dentistry in Milwaukee before specializing in pediatric dentistry at Children's Hospital of Wisconsin. She is a board-certified pediatric dentist as well as a proud member of the American Dental Association and the Arizona Academy of Pediatric Dentistry. Her office in Scottsdale, AZ offers services such as pediatric cleanings, examinations, and infant dentistry. For more information about care for a teething child, contact her office online or dial (480) 282-6746.